Throughout the month of October, I, Justin Christian Ney, will be watching a horror film every day. Because, frankly, I need to catch up on the genre as a whole. Also, I'm broadening the scope to include thrillers, slasher films, crime dramas (primarily to just include everything by Hitchcock), and those b-horror films that are usually more humorous than they are terrifying (primarily to allow me to sleep during an entire month of horror movies).
I want to see the classics, the ground-breakers, the foreign films, the new ones, and the films that time forgot about. I've only got 31 days to immerse myself in the filthiest, most-horrific, scandalous, and eye-popping films THE WORLD HAS EVER SAW. So, without further ado, let us (me) begin!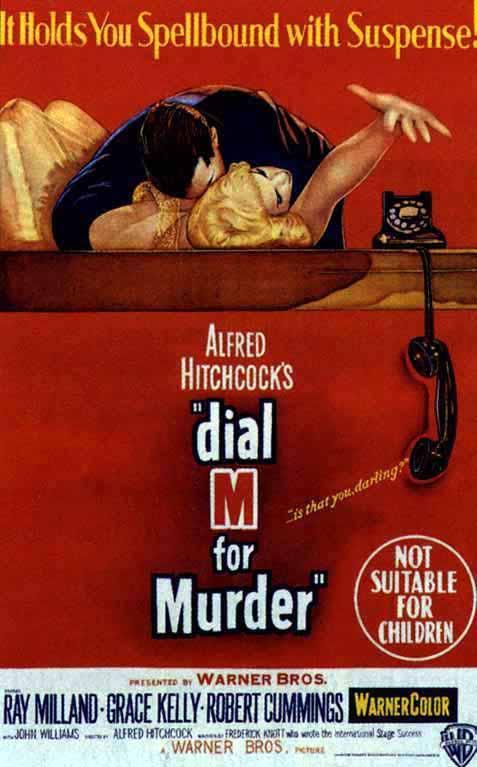 "Dial M for Murder" (1954)
actors. Ray Milland, Grace Kelly, Robert Cummings
Last night, I watched "Dial M for Murder." It's a Hitchcock film, because if I'm going to embrace the horror genre, there's not a better director to look towards. The film is quintessential Hitchcock: twists & turns that keep you glued to the screen, constantly questioning characters' motives, who's right and who's lying. Grace Kelly (Margot) is charming, yet juvenile. Robert Cummings (Mark) is pleasant, yet stern. And Ray Milland (Tony) is a smooth-talker, yet a coward (and he wants his wife dead!). Oh, and Anthony Dawson is just a creep - classic Hitchcock.
In parts, it reminded me of "Rope," (1948) one of my all-time favorite Hitchcock films, due to the focused energy on one room - the apartment of Margot & Tony (who really should've just got a divorce). I'm glad to have scratched out one more of Hitchcock films, although I wouldn't say it's one of my favorites. For now, "Strangers on a Train" (1951) has that title.